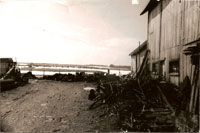 It is in 1958 that J.M. Bastille Acier Inc. first saw the day. Its founder, M. Jean-Marie Bastille, discovered an interest in the metal recycling industry while he was merchandising used tarp from aluminium mills. One day, a customer offered Jean-Marie a lot of used steel scrap in exchange of a few tarps he needed, and Jean-Marie accepted. It is when he resold his lot, to the local scrap dealer, that, he realised that the scrap steel business could be more interesting than his tarp business could be. And a new business was born that day.
In 1972, while the recycling department was constantly developing, a strong demand was urging for a retailer of new steel in the area. M. Jean-Marie, being ahead of its time, invested himself in the construction of what would become his first, new steel, retail warehouse. Same warehouse, that was enlarge four times, in the following years, to serve a continuous demand in this line of interest.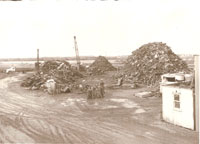 Since then, both departments have become complementary one with the other. Effectively, new steel distribution would help maximising scrap freight costs and on a second level, some customers buying new steel would also become new active customers for the recycling department.
It is in 1982 that, M. Jean-Marie Bastille decided to transfer the general management of the company to his oldest son Jean-Pierre Bastille. This decision would guarantee the business to maintain its acquisitions and increase its continuous development.
In 1985, constantly looking to enlarge its new steel variety of products, J.M. Bastille Acier Inc. erected a new warehouse of over 15 687 square feet. This innovation permitted to acquire a complete range of steel products, such as flats, angles, channels, H and I Beams, all shape HSS, flat rolled and steel plates, etc...
1989, was a determining point for the company. A new approach and philosophy is born when J.M. Bastille Acier Inc. is sold to Jean-Pierre Bastille, Rodrigue Bastille and France Bastille. It is after multiple transactions trough out the years, that Jean-Pierre Bastille is now the unique owner, assisted by his two sons, Pierre-Luc and Michael, forming the third generation of the company.
In 1997, J.M. Bastille Acier Inc joins Acier Transbec, the most important steel purchasing group in Québec and Ontario. Gathering together nine (9) steel distribution centers in Québec and three (3) in Ontario, this association allows the company to consolidate three important aspects of steel distribution: Direct access to the major North American and around the world steel mills, access to a wide range of quality products and an impressive negotiation power, providing and assuring its customers, availability of stocks and best prices in the market possible.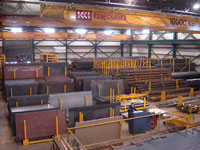 In 2003, the company enlarged once more its warehouse of over 22 770 square feet. So it is now over 38 500 square feet of warehouse, that J.M. Bastille Acier Inc. uses to satisfy the ongoing demand of its customers.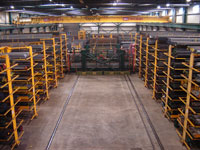 J.M Bastille Acier Inc. distributes ferrous (steel) and non ferrous (aluminium, stainless steel, brass, copper, etc…) in a variety of quality, such as new, seconds and used. The company also offers the cutting and bending service of steel sheets and transformation of rebar used in concrete jobs. Offering its customers a quality product, and an unbeatable customer and delivery service, J.M. Bastille Acier Inc. is a business partner no one can deny.
In order to meet the multiples needs of its customers, J.M. Bastille Acier Inc. relies on its own important fleet of trucks and trailers; offers, over 300 containers, free of charge, in variable sizes in order for you to store your scrap metals; offers, on site pick up of your scrap; car crushing service; and last but not least, industrial dismantle service after sinister such as building dismantle, fire, train derailment, etc…
Without knowing what he was about to create, M Jean-Marie Bastille, with his modest beginning in the steel industry, has been the instigator of a family business aged of its third generation of existence. The multiples investments made by the owners and employees trough out the time, to reach a common goal, has permitted the company to survive trough out the years and enhance the influence of J.M. Bastille Acier Inc. in the steel industry within its limits of operations. Same limits witch are now covering the Eastern part of the province of Québec, the New-Brunswick and all the other Atlantic provinces.